Northland Utilities has been lighting up homes and businesses in the Northwest Territories for more than 60 years. Our office in Hay River services Kakisa, Dory Point, Fort Providence, Sambaa K'e, Wekweeti, Hay River, Enterprise and the K'at'lodeeche First Nation. Our Yellowknife office provides services to Yellowknife and N'Dilo.
We own, operate and maintain the power poles, power lines and other electrical infrastructure that you see overhead or that is buried underground, five substations and five diesel plants. Through the Public Utilities Board, our costs are fully transparent and any changes to its rates are subject to a formal process which includes scrutiny by customers, municipalities and other users.
Partnering to better serve our communities
Northland Utilities is a joint partnership between ATCO Ltd. and Denendeh Investments Inc. For the last 30 years, Northland Utilities has been part owned by Denendeh Investments Incorporated (DII), representing 27 Dene First Nations across the Northwest Territories. 
Through this partnership, Denendeh Investments Incorporated is able to invest in Indigenous organizations and initiatives that contribute to sustainable economic and social development. Community members are also encouraged to participate in Northland Utilities Job Shadowing and Indigenous Placement Program.
On March 18, 2015, Denendeh Investments Inc. and ATCO signed a Memorandum of Understanding that increased DII's ownership of Northland from 14 to 50 per cent.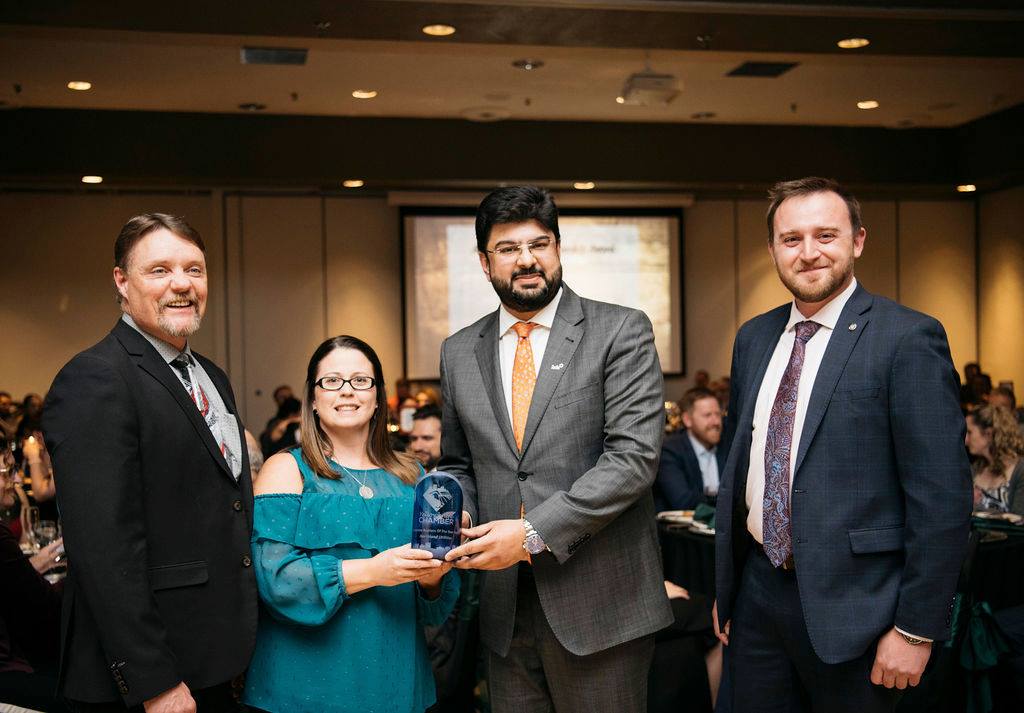 Yellowknife Chamber 2019 Corporate Business of the Year
We are proud recipients of the Yellowknife Chamber of Commerce 2019 Corporate Business of the Year Award. 
Darrell K. Beaulieu, Chief Executive Officer, Denendeh Investments Incorporated
Mr. Beaulieu was born and raised in Yellowknife, capital of the Northwest Territories and has served three terms as the Chief of the Yellowknives Dene First Nation, whose traditional territory surrounds the capital area. As President and CEO of Denendeh Investments Incorporated, Mr. Beaulieu provides the leadership, vision and public presence. Mr. Beaulieu has been involved in various aspects of mineral exploration in the NWT for many years and has served on both the Mine Training Society and NWT Chamber of Mines Boards of Directors.

Greg J. Nyuli, Secretary of the Board, Denendeh Investments Incorporated
Mr. Nyuli has been on the DDC Board since 1994 and the DII Board since its inception in 2006. He is currently the Executive Assistant to the Dehcho First Nations Grand Chief, a position he has held since January 2014. Mr. Nyuli served two terms as Chief of Deh Gah Got'ie Dene Council. He was the regional negotiator for the Dehcho between 1988 and 1990. In 2001 he was named the Oil and Gas Coordinator for the Fort Providence Resource Management Board.

Lorraine M. Charlton, Board Member, Canadian Utilities Limited
Ms. Charlton is currently Vice President and Chief Financial Officer of Lintus Resources Limited, a private oil and gas company with interests across Western Canada, and has over three decades of experience in the oil and gas industry. Ms. Charlton is also a director of CU Inc. and AKITA Drilling Ltd. She holds the Corporate Director Designation (ICD.D) from the Institute of Corporate Directors.

James W. Simpson, Lead Director of the Board, Canadian Utilities Limited
Mr. Simpson is Lead Director for the Board of Canadian Utilities. Until April 2017, Mr. Simpson was Chair and Director of Suncor Energy Inc. ("Suncor"), having served on its board since 2009. He is a former Chairman of the Board of Governors of the Canadian Association of Petroleum Producers and actively participated in climate change issues and emerging regulatory policies related to Canada's petroleum industry.  He has also participated in the World Petroleum Congress.

Siegfried W. Kiefer, President & Chief Executive Officer, Canadian Utilities Limited
Mr. Kiefer's career with ATCO and its subsidiaries began in 1983. Currently, he serves as President & Chief Executive Officer of Canadian Utilities Limited (CU) after previously holding the title of President & Chief Strategy Officer for ATCO Ltd. and Canadian Utilities Limited, an ATCO Company. Mr. Kiefer has a Bachelor of Commerce degree from the University of Calgary. He is married to Colleen and has a son, Stefan, and a daughter, Reegan.

Nancy C. Southern, Chair & Chief Executive Officer of ATCO Ltd.
Ms. Southern is Chair & Chief Executive Officer of ATCO Ltd., as well as Chair of Canadian Utilities Limited, an ATCO company. Reporting to the Board of Directors, she has full responsibility for executing the strategic direction and ongoing operations for the company. In addition to her business leadership, Ms. Southern has long played a leading role in advocating on social issues of global importance – most notably, the rights of Indigenous peoples and the role of women in business.